Indonesia is the biggest and the most populous country in Southeast Asia. The country is looking at a steady growth of 5.5% GDP in the past 10 years. Indonesia is also the world's largest archipelago and on surface it is really attractive to foreign investors. That said, many foreigners are interested in investing in Indonesia as there is a great potential of growth in the economy in the upcoming years. Due to the foreseeable economic growth, there are many types of businesses that can be done in Indonesia for foreign investors. 
In this article, you will be provided with several types of business investment opportunities that foreigners could possibly pursue in Indonesia. 
Types of Businesses
With Jakarta being the capital and most populated city in Indonesia and Bali being the top 10 best places to visit in Asia according to U.S. News Travel, many expatriates, visitors and business tourists visit the country regularly. This would leave enough room for foreign investors who want to invest in the tourism industry in Indonesia to make money.  
Since Indonesia is considered one of the major exporters of furniture products in the world, by opening a business to export furniture products overseas would be quite a good investment. It is noteworthy that American and European countries tend to purchase their needs for furniture from Indonesia as well. 
The capital of Indonesia (Jakarta) and Bali attracts together attracted millions of tourist all around the world to visit it every single year. By opening a travel consultant company by offering assistance to tourist such as hotel bookings, airport pick-ups or drop-offs, visa assistance and etc. 
Insurance Company

 
With its 260 million population in Indonesia alongside with its low insurance penetration rate of just below 3%, large population and expanding consumer class have made it ripe for insurance ventures looking to expand.  
Meat Processing and Packaging

 
Being a tropical country with the coastal plains averaging at 28°C all year long, Indonesia is suitable to grow and develop livestock for processing and packaging. According to The Jakarta Post, Indonesia had imported 100,000 tons of buffalo meat in the year of 2018. This simply means that the demand for buffalo meat in Indonesia is high and therefore, by opening a meat processing and packaging business here in Indonesia would be a good idea. 
The challenges that many entrepreneurs experience in Indonesia would be in relation to the governmental tax that is imposed on the company. Because of that, many people had reach out to tax experts to outsource their tax computations to them to not only handle it for the companies but also to advise them on methods and ways to reduce their taxes. Therefore, a tax consultancy business in Indonesia would also deem to be a good business idea for investors. 
In Indonesia, there are many people who relied very much on business consultants to develop business strategies for themselves to propel their business to the next level. By investing in a consultancy company by giving advice on businesses as it does not only have demands in Indonesia, but it also provides you with developing solutions and strategies for other people's businesses which would be useful for your own business.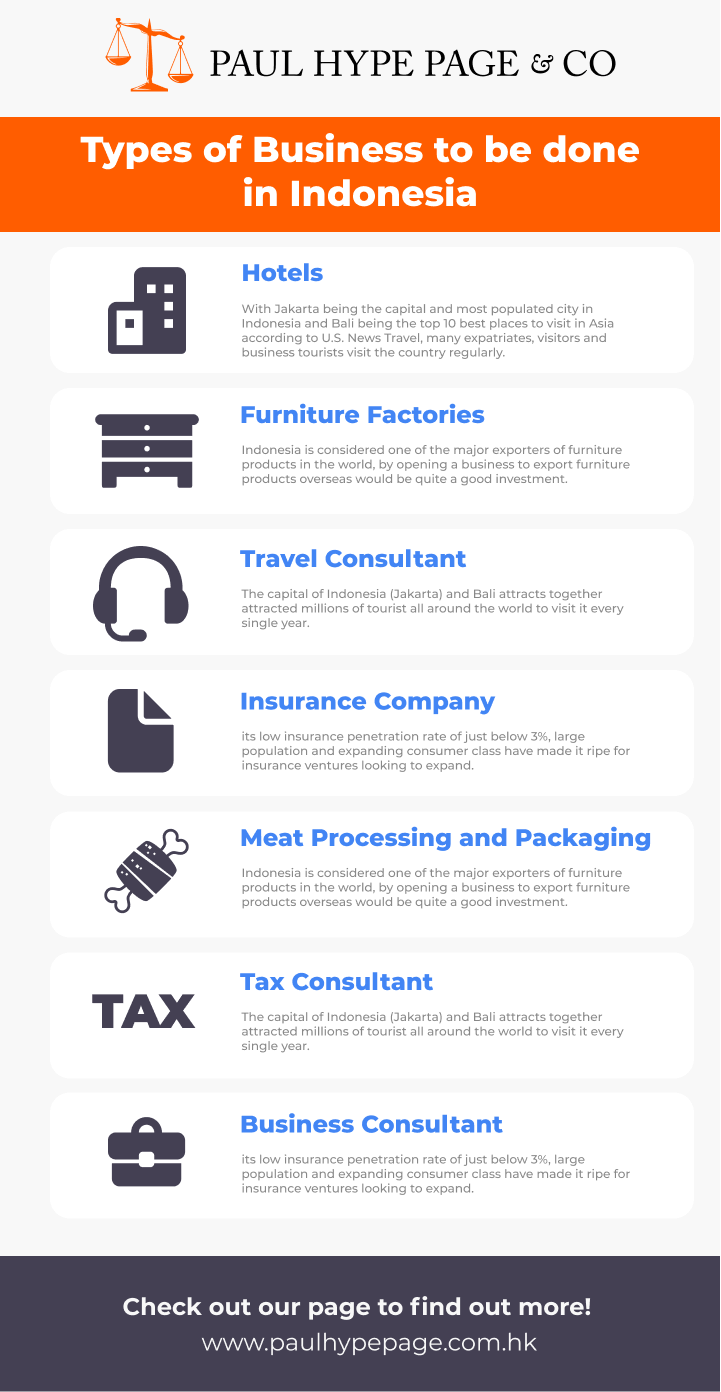 Opening a Business in Indonesia
Having read and understood the different types of business that would be a good investment opportunities for foreigners to pursue in Indonesia, these business that are open by foreign investors will usually be considered as a foreign owned company (PT PMA) in Indonesia. There are several steps and requirement to successfully open a PT PMA in Indonesia. These requirements are as follows: 
Shareholdings of the PT PMA will be subjected to the Negative Investment List 

(a list 

made from the Indonesian government 

which 

stipulates which sectors are open to foreign investment in Indonesia as well as the percentage of foreign ownership permitted

) 

as 

not all types business activities can be 

fully 

owned

,

 

100% by foreigners;

 

Must consist of at least 1 director, 1 commissioner and 2 shareholders;

 

The minimum investment in the PT PMA is IDR 10 billion (USD 750,000.00) and the minimum 

amount of  the 

paid-up capital is IDR 2.5 billion (USD 180,000.00);

 

Specific license required for business in certain specific areas; and

 

The shareholders must present a deed of establishment that must be legalized by a public notary.

 
Click here to have a better understanding in relation to the characteristics of a PT PMA in Indonesia.  
Company Registration Process in Indonesia
Here in Indonesia, it takes only about 23 working days to register a company in Indonesia. However, it could be really time consuming if the registration procedures were not complied with properly. The steps and timeline for the company registration process in Indonesia are as follows:
No.
Description
Estimate Duration

(working days)

1
Approval of company name at the Ministry of Law and Human Rights
2
2

Preparation of Article of Association by Notary (Akta)

3
3
Obtain Deed of Establishment at the Ministry of Law and Human Rights (SK Kehakiman)
4
4
Obtain Domicile Letter at the local government office

 

5
5
Obtain Tax Identification Number (NPWP)
3
6
Register Business Indentification Number (NIB = Nomor Induk Berusaha)
3
7
Register Business License (Izin Usaha)
3
Click here to have a clearer picture of how does the company registration process works in Indonesia.