With the Mega Bank shake-up that are going to take place in May 2019, it concerns many entrepreneurs in Indonesia as to the effects on Indonesia companies. Here, you will be provided with the information on the effects of mega bank shake-up on Indonesia company.
Based on the latest news from Reuters, the Indonesia government will finalize a plan this coming May to put four state banks under a holding company, PT Danareksa, a government-owned financial company. The four state banks were Bank Mandiri, Bank Rakyat Indonesia (BRI), Bank Negara Indonesia (BNI) and Bank Tabungan Negara (BTN). Questions therefore arise to many companies in Indonesia in relation to this matter on what are the effects of the mega bank shake-up on the companies in Indonesia.
In this article, you will be provided with the information of what will happen with the upcoming mega bank shake-up in Indonesia on May 2019.
Purpose of the Mega Bank Shake-up
Prior to knowing what the impacts of the mega bank shake-up are on companies in Indonesia, it is crucial that we understand the whole purpose of the shake-up which is going to be taken place in May 2019.
In this coming May, the whole purpose of why the Indonesian government plans to put four of the state banks under PT Danareksa was to support the government's development agenda, which includes encouraging infrastructure and lending for homes.
Besides that, in accordance to the Deputy Minister of State-Owned Enterprises, Gatot Trihargo, he states that the holding company, PT Danareksa will help by relocating capital amongst the leaders, either from fund findings or dividend payments. This is because he states that the government expects this holding company to be able to raise funds more successfully and also to be able to improve its competitiveness against other private owned banks in Indonesia.
Benefits of Merging the Banks
The whole process of putting four of the banks together under a holding company is also known as merging the banks together. The benefits arise from merging banks are as follows:
As we know, if four of the banks were merged together it will become a larger bank and it has a lower aggregated risk profile since a larger number of similar-risk complimentary loans decrease overall institutional risk;
A bigger bank will have more capital to work with when it comes to lending and investments and also a broader geographic footprint in which to operate. Therefore, companies in Indonesia that would be able to obtain a larger amount loans from these 4 banks in comparison to the other smaller banks;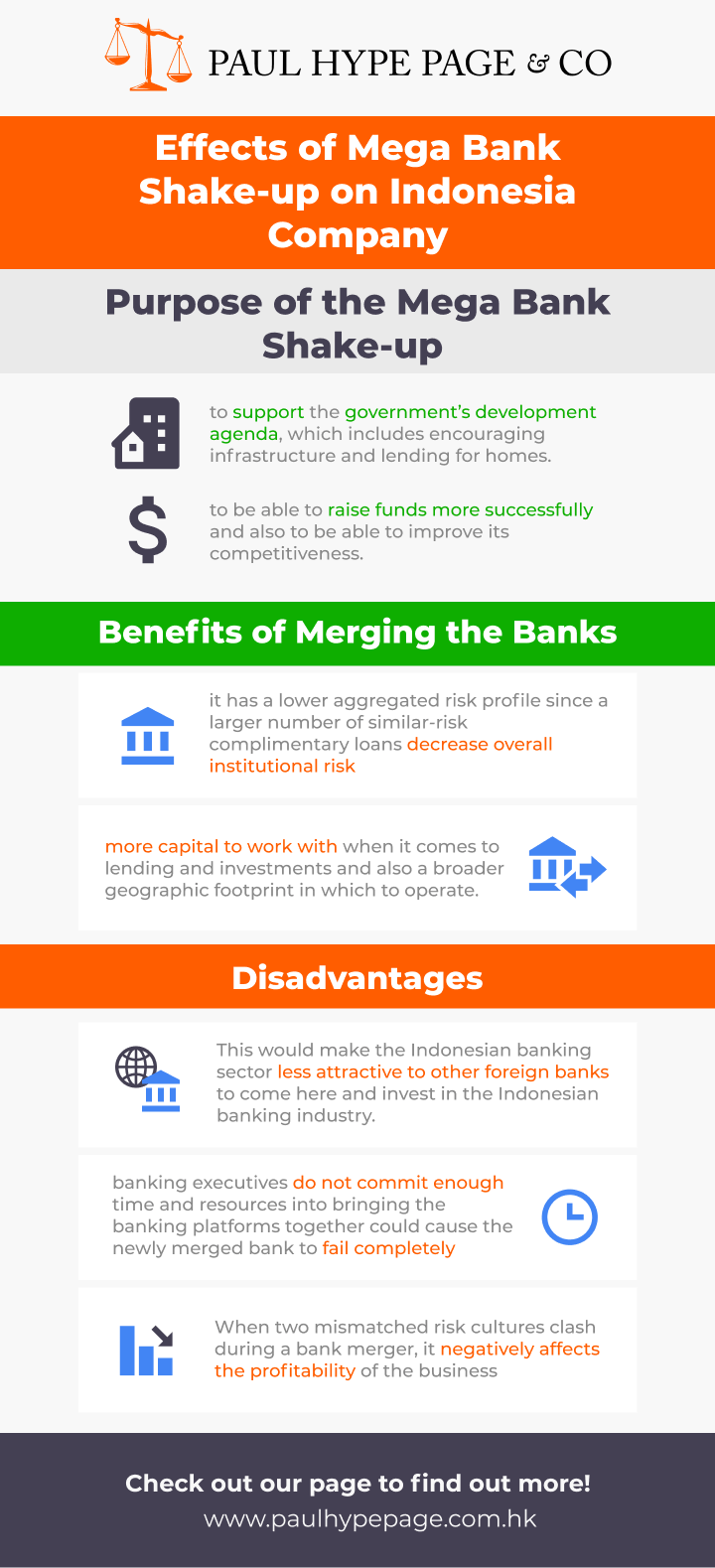 Downside of Merging the Banks
Unfortunately, there are several disadvantages of merging the banks together as well. These disadvantages are as such:
This would make the Indonesian banking sector less attractive to other foreign banks to come here and invest in the Indonesian banking industry if they feel that perhaps the state-owned banks are too strong. Because of that, it might impact many foreign investors' interest in investing in Indonesia as many of them would had already plan on opening a bank account in Indonesia from a foreign bank;
By merging the banks, there are possible risks that might occur if the merging banks do not provide enough commitment. This is because in instances where banking executives do not commit enough time and resources into bringing the banking platforms together the resulting impact on their customers could cause the newly merged bank to fail completely;
When two mismatched risk cultures clash during a bank merger, it negatively affects the profitability of the business down the road if they haven't come to a working solution
Conclusion
In a nutshell, after the mega banks shake-up in May 2019, it is expected that holding company of Danareksa would be able to support the government's development agenda, which includes encouraging infrastructure and lending for homes. Therefore, government would be encouraging and welcoming more foreign investments into Indonesia to increase the country's economy in the world.
Besides that, company incorporation in Indonesia will also be likely to open more corporate bank accounts from the four Indonesia banks as it will have a lower aggregated risk profile and it would also be able to obtain lending and investments easier as the banks will have a larger capital to work with.